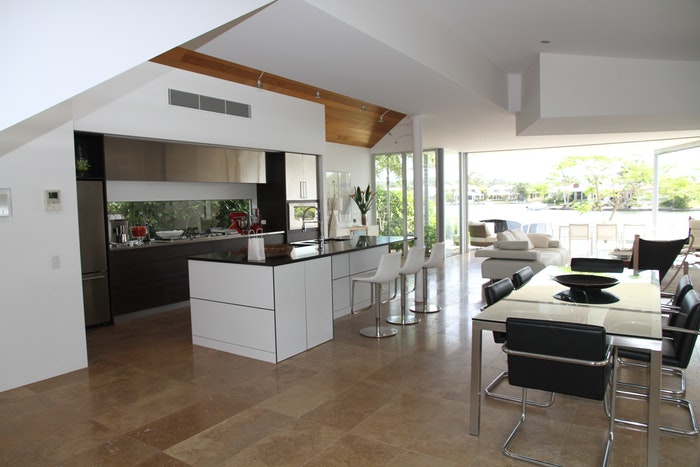 This millennium has thrown up many new decor trends with the spacious open floor plans being one of them. While open floor home designs work best in apartments by making spaces appear larger, they do have the drawback of reducing privacy. However, there are ways to get around it by creating multiple living areas within a larger space rather than succumbing to building walls. Here are some imaginative tips on ways to partition your personal spaces without losing out on the visual appeal:
Glass dividers
Frosted or translucent glass dividers are a great way to partition off different functional areas of living spaces. These portable screens don't allow clear views of the other side while still allowing light to pass through. You could also consider full length sliding glass dividers to prevent kitchen sounds and smells from spreading out.
Screens
You could consider decorative, slim dividers made of wood, burnished metal or even fibreglass. These portable screens not only segregate views of the other side but also add to the aesthetic appeal.
Green dividers
For those of you with green thumbs, you could even set up a bamboo trellis and grow climbers like money plant on it. Aside from acting as a room divider, it will add lush greenery, purify your indoor air and enhance the room's aesthetic quotient.
Folding screens
Decorative Chinese folding screens not only amp up the style quotient of your room but are also functional in maintaining privacy between different sections of large spaces.
Slated screens
Just like those used in window blinds, you can setup free-standing wooden slatted screens or louvres that can be swivelled shut when more privacy is required in the partition structure. These are very effective in dividing the sitting room section from the rest of the living area.
Open shelves
This is a very functional way of partitioning areas in an open plan home. You could use the shelves to store books, display your mementoes and décor items or even keep your potted plants. Open shelves give the appearance of continuity of space while imparting privacy as well.
Curtains
This is the simplest way of partitioning off areas for privacy. You could use lacy curtains or bead curtains that reduce visibility, while still providing a sense of continuity of space.
Layered floor levels
Constructing functional areas at different levels is another way of creating boundaries within a space. You could also use different floor colours/patterns to demarcate the areas.
The innovatively-architected Fortius Waterscape apartments in Krishnarajapuram, Bangalore, also offer amazing opportunities to decorate these homes. Get more info on them here: https://www.fortiuswaterscape.com/.