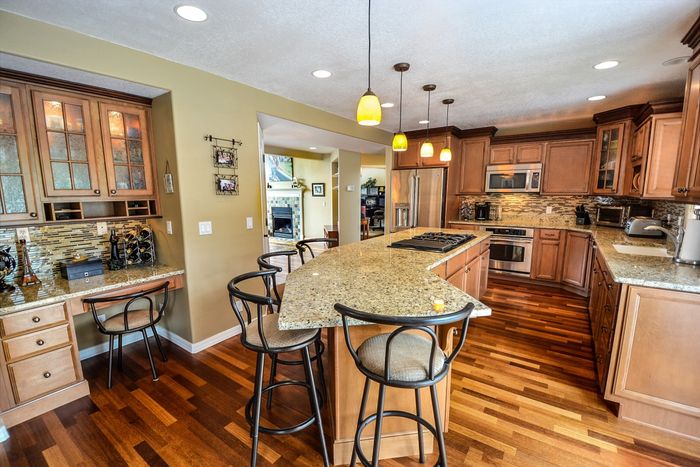 The kitchen is usually the heart of every home; its the place where nourishing meals are prepared amidst the chatter of family and friends. Your kitchen should ideally appear inviting, attractive and cozy. By making a few simple changes, you can transform your kitchen into a cozy space where the family would love to converge. Here is a look at some easy tips:
Add some color
A lackluster kitchen can appear dowdy but a fresh lick of paint can add new appeal. Lighter colors will make it feel more airy and spacious, and the perfect place to catch up on the day's events. You could even have an accent wall to add interest to the room.
Indoor plants
There is nothing like fresh greenery to make a room look inviting and the kitchen is no different. Just add some easy-to-maintain potted plants and liven up your kitchen. Potted herbs on your kitchen windowsill will further add their fragrance appeal.
Lighting
Sprucing up your old light fittings with something more modern and appealing will brighten up your kitchen and make it look inviting. Natural lighting should also be encouraged by keeping windows open and using sheer drapes to maintain privacy.
Seating
Enhance your kitchen's charm by adding some easy seating. This can be in the form of simple bar stools or chairs. Creating an eating area around the kitchen island or extended countertop makes for cozy family meals and great memories.
De-clutter
There is nothing like a cluttered countertop to make the kitchen lose its charm. Stowing away things that aren't used often and having a place to store regularly-used items away from sight will enhance the appeal of your kitchen. Create sufficient storage spaces and ensure no clutter collects on the countertops.
Cleanliness
A spic-and-span kitchen appeals to everyone to come to spend some time in the kitchen. Cleaning as you cook reduces time spent cleaning later and doesn't allow the unsightly mess to build up.
Have a look at the beautifully designed kitchens in the ready-to-move-in Fortius Waterscape apartments in the Krishnarajapuram area in Bangalore. Nestled within a 2.3-acre green plot, these delightful, contemporary kitchens are designed keeping all your needs in mind! Get more information on them here: https://www.fortiuswaterscape.com/