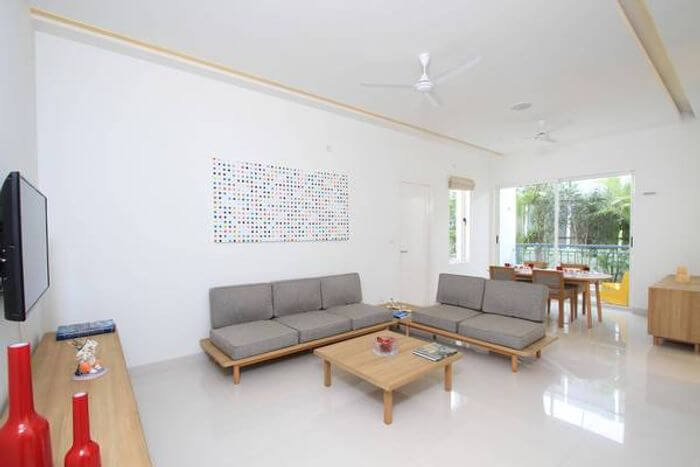 When the day is done and over with, everyone heads home to unwind and relax in their comfort zone. Home is where you nurture peace of mind and rejuvenate to face another day head-on. However, for this, you need to put in some initial effort to create a peaceful home first. The energy spent on doing this is energy well-spent as it will help you have a tranquil home to de-stress in daily!
There are several ways to turn your home into a tranquil oasis; here are some ideas to bring about peaceful vibes in your home:
Colours
According to colour therapy, colours can affect the mood of people. For most people, muted shades of watery blues and greens infuse a restful ambience in a room. For others, whites, creams or light shades of rose, peach or taupe does the trick. You could have the dominant room furnishings or walls in colours that appeal to you.
Lights
During the day natural light works well, but in the evenings, go with lights that aren't harsh on the eyes. Install light dimmers or use diffuse lighting sources to create a restful mood.
De-clutter
Too much of anything can be an eyesore and irritate the mind. A few classy décor items are better than overflowing shelves. Similarly, do away with stuff that hogs up space. Create an airy ambience as it helps you breathe and unwind better.
Hidden storage
Keep your things stored inside covered spaces like cupboards or drawers. The lack of visual 'noise' helps to keep the mind calm and away from the stress of having to process too many things. This doesn't mean you have to live the minimalist life either.
Plants
Apart from improving the indoor air quality, adding green plants into your home décor helps you connect with nature and enhance the restful quotient of your home.
Sanctuary
Carve out a niche in your home where only nurturing elements are present. This could be your apartment balcony where you can place comfy furnishing, cosy lamps and potted plants that please the senses.
No technology
Keep your technology devices hidden away along with the awful wiring mess that comes with them. Wherever possible, go for smaller, less-obtrusive wireless devices.
You could start a whole new life in the spacious Fortius Waterscape apartments in Krishnarajapuram area of Bangalore that offer scenic vistas of the Yele Mallappa Shetty Lake and large manicured gardens to nurture peace in your mind.