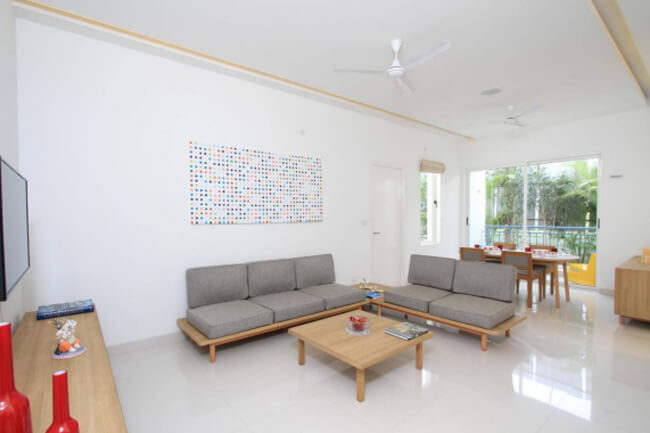 Once in a while, it's good to take a look around your room and check whether you really need all the things lying around. And if you don't really need them, it's time to chuck them out. This is the way minimalist décor works. It's all about following a décor style that is simplistic and basic and provides ample open spaces. Minimalism celebrates simple clutter-free existence that's a welcome break from the traditional Indian home décor which is heavy on opulence, color and ornamentation.
Decorating in a minimalistic style is also about exercising restraint so the end result is a clutter-free tranquil space. Minimalism doesn't mean cold, sterile spaces as they can also be made to look cozy with a little bit of imagination. Here are a few tips to get you started:
De-clutter – Clutter and minimalistic décor don't go together. Keep only a few essential items on display, whether it's on the kitchen counter or in the sitting room cabinets. Using a pale/white background with a splash of color here and there, works wonders.
Color palette – Go with understated colors like brown, beige, grey or white. Limiting color usage to just two per room along with an accent color reflected in throw pillows or décor items is sufficient to create a sophisticated, warm minimalistic look.
Lighting – Unadorned or minimally adorned windows go well with minimalistic décor. Blinds or sheer curtains brighten up your home, creating a better ambience.
Space – Space creates a visual balance and anchors the gaze onto outstanding focal points. These have to be minimalistic in nature to add simplicity to a room. Open spaces also add an aura of peace and coziness to your home.
Textures – Going with basic colors in neutral tones can make the room look a little boring; the correct use of textured materials using the same color tones can make the room look more lively and charming.
Patterns – Minimalistic décor includes a little bit of pattern, if at all. Patterns can be used in a small way in similar base tones or unobtrusive designs. You could use them as accent pieces such as for throw pillows, a central rug or even as curtains. They will add an element of interest to the room.
Furniture – Furniture with well-defined clean lines and curves adds clarity to the mind, is soothing for the eye and follows the minimalistic decor style.
Fortius Waterscape apartments in Krishnarajapuram, Bangalore, are set in a sprawling green campus and offer you beautifully architected homes that are perfect for minimalistic designing. Find out more about them here: https://www.fortiuswaterscape.com/.