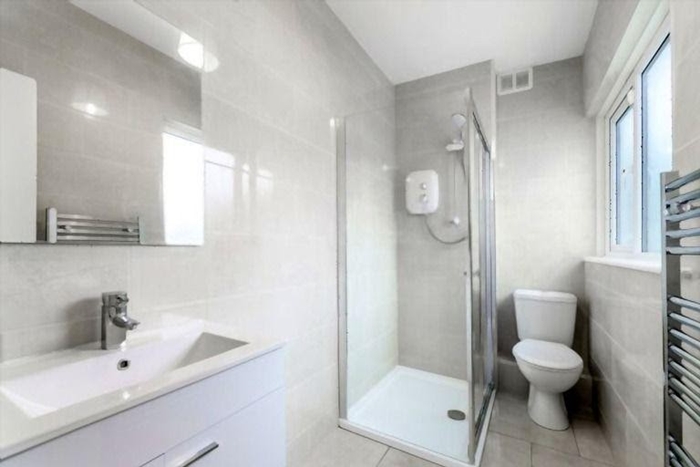 Just because your bathroom is on the smaller side, doesn't mean it has to look small too. With some clever interior decor ideas, you can create a bathroom that looks spacious and airy. Here are some tips to get you started:
Go big on Lighting

Look for ways to increase natural lighting. Use frosted glass in bathroom windows so that your privacy is maintained while increasing natural light. You could also use bright artificial lighting to make the bathroom appear larger.
Mirrors help

Placing a large frame-less mirror opposite a light source will brighten up the small bathroom, making it appear larger. Go with tarnish-resistant mirrors in this high moisture area.
Colors matter

Light colors always create an impression of space. With white and off-white colors never going out of fashion on bathroom walls, use them seamlessly across the ceiling and walls. This will create an impression of unending space.
Tile size

Using larger tiles on the walls and on the floor of smaller bathrooms creates an impression of space. Apply the wall tiles all the way to the top, creating an impression of greater height. And when the ceiling is painted the same color as the walls, you automatically improve the visuals into a bigger bathroom look-alike!
Reduce visual Clutter

Small patterned tiles, different colored fittings as well as an oddment of décor accessories can make your bathroom appear cluttered by dividing up the space. Maintain uniformity of color to open up the same and appear bigger.
Seamless Shower

To open up space, go with a frame-less, plain glass wall for your shower. This allows for seamless visual flow of light and makes the bathroom look more spacious than it actually is.
Recessed Shelves

Another idea is to build clear glass shelves recessed inside the wall so that there is nothing protruding outwards. Aside from looking aesthetic, it also creates unbroken visuals, making your bathroom appear larger.
For those on the lookout for apartments, have a look at the exclusive ready-to-move-in Fortius Waterscape apartments in Krishnarajapuram, Bangalore. And one thing is for sure, you wont have to worry about small bathrooms here! Click here for more information: https://www.fortiuswaterscape.com/.