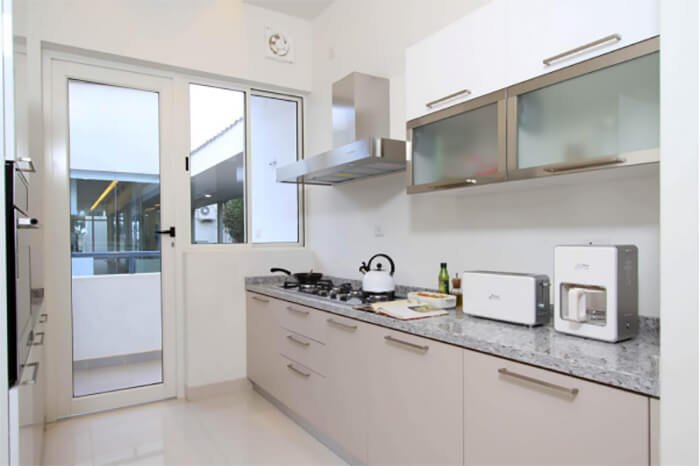 The modern-day kitchen is no longer a room for routine chores, relegated to the back of the home where the woman of the house drudged all day to feed her family. There has been a silent revolution going on, and today the kitchen is the 'nerve centre' of a home with most activities revolving around it. With the concept of open-style home designs gaining popularity, there are fewer walls and partitions and the kitchen has become more inclusive. Fewer walls also mean your apartment becomes more spacious and airy.
The kitchen has become more than just the heart of the home; it now serves multi-functions both as a social hub and an entertainment area too. It has become an informal sitting area that integrates the study area, the living room area as well as the dining area. This means that as you are whipping up a meal, you can still watch over your kids, enjoy a television program and interact with the family or guests.
All this makes it essential that aesthetics be an integral part of the kitchen design along with its efficiency and functionality through technical innovations. The spatial design of the new age kitchen displays a clean and crisp appearance with hidden storage areas offering clever functionality. Luxury is unveiled in a minimalistic manner with the use of exceptional quality natural materials like veined woods, rich veneer finishes, bronze and rare stones etc. High-glossy finishes are out and a neutral color palette of white, gray and stones like marble, limestone or concrete are in.
With the open plan home designs, the kitchen is also getting equipped with integrated technology; this ensures that you don't have any awkward stand-alone bulky appliances that spoil the design flow of your kitchen. Open-plan kitchens also offer better technology like more efficient extractor fans to get rid of cooking odors, fridges with touch-screen temperature control panels, other integrated high-tech appliances and intelligent lighting systems that can be used to zone individual areas within the space.
In an open plan design, the kitchen island is both aesthetic and functional. Aside from being a food preparation area, it also provides storage space as well as serves as a breakfast bar and doubles up as a stylish informal sitting area too. It's a great idea to use classy materials that ooze luxury for creating the kitchen island.
And if you are in Bangalore, check out the Fortius Waterscape apartments in Krishnarajapuram which offer great-looking, modern Vaastu-compliant kitchen areas located in the south-east direction. Find out more about them here: https://www.fortiuswaterscape.com/