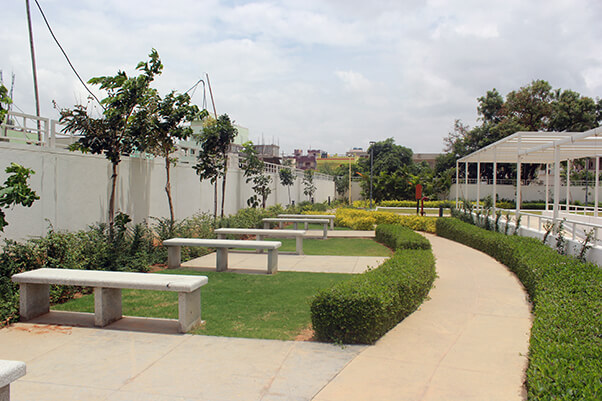 Green homes or eco-friendly homes are built with another larger home in mind – Mother Nature. Crafting green buildings is the only way forward for the coming generations to survive. Global warming and depletion of natural resources is rapidly eating away into the thread-work of planet earth. There is a pressing need to use resources like water, electricity and green coverage in a more efficient manner.
Green buildings built with locally-sourced sustainable materials incorporate effective use of land, water and electricity; they are also environmentally-friendly, recycle household waste, are energy-efficient and cause lower pollution. Rainwater harvesting, groundwater recharge, recycling waste water and using solar panels as well as more of natural lighting are some of the key concepts applied in green homes. These efforts can also result in reducing around 30% of your water and electricity bills, thus making green homes more financially viable.
As awareness about conserving global resources and decreasing carbon footprint is on the rise, the use of eco-friendly buildings is also increasing. Though the use of this concept is still in its nascent stage in India, more and more real estate developers are incorporating this concept into their apartment and villa projects. Fortius Infra in Bangalore also incorporates this green concept and their Fortius Waterscape apartments have received the green building Gold Certification from the prestigious IGBC (Indian Green Building Council) body. These energy-efficient homes are located in Krishnarajapuram close to the scenic Yele Mallappa Shetty Lake.
The importance of the gold certification for Fortius Waterscape is further strengthened and supported by the state government of Karnataka. Under the recently proposed Karnataka Green Building Incentive Policy, the government is seeking to provide an array of incentives for both builders as well as homebuyers of green homes which include a reduction in property tax and stamp duty. Under the policy which is still being refined further, environmental clearance for green building projects will also be fast-tracked to encourage more builders and homebuyers to invest in such projects.
It is expected that green buildings will be incentivized on the basis of benchmarks proposed by green building certification bodies like LEED (Leadership in Energy and Environmental Design), IGBC (Indian Green Building Council), EDGE (Excellence in Design for Greater Efficiencies) and GRIHA (Green Rating for Integrated Habitat Assessment).
With the new upcoming green building policy, this is the ideal time for potential homebuyers to take the plunge and invest in green homes like the Fortius Waterscape. Find out more about them here: https://www.fortiuswaterscape.com/